The Plant Nuclear Marker Collection
Donated by
Peter Shaw Department of Cell and Developmental Biology, John Innes Centre
John Brown Division of Plant Sciences, College of Life Sciences, University of Dundee account (DEL0), James Hutton Institute
Liam Dolan Department of Cell and Developmental Biology, John Innes Centre
Click here to view all 84 of these lines.
Description
The Plant Nuclear Marker collection contains a number of gateway constructs of Arabidopsis nuclear and nucleolar localised proteins. In most cases, the construct is available as an entry clone (pDONR207), GFP destination clone (GFP-N-BIN) and mRFP destination clone (pROK2-mRFP). These constructs are useful as markers of nuclear bodies and the nucleolus in co-localisation studies. These constructs have mostly been published in the papers referenced below. Images of many of the nucleolar markers are shown in the Plant Nucleolar Database (http://bioinf.scri.ac.uk/cgi-bin/atnopdb/home).
The donors would like to thank Ben Trewaskis for the gift of GFP-NBIN
Ordering
Clones can be ordered separately (see above link for list of all clones) or within the following sets:
Name
NASC code
Sets Available
pDONr207 Entry Clones
N794985
Set of 28 clones
GFP-N-bin Destination Clones
N794986
Set of 24 clones
pROK2-mRFP Destination Clones
N794987
Set of 20 clones
70
Seeds can be ordered individually and include the following lines:

Details of lines
cDNAs used for the generation of most of these constructs were available as trimmed U clones (cDNAs trimmed to the annotated start and stop codons in the Cre-Lox pUNI vector) from the SSP Orfeome collection (http://signal.salk.edu/SSP/). In other cases the cDNA was generated by PCR from an Arabidopsis thaliana cDNA library.
Coding regions with stop-codon deleted were amplified by high-fidelity PCR and then inserted by recombinase cloning into a standard Gateway entry vector (pDONR207; www.invitrogen.com).
Entry vector clones were transferred by recombinase cloning, into Gateway binary plant expression vectors GFP-N-BIN and pROK2-mRFP (which contains the coding sequence of monomeric RFP (Campbell et al., 2002) at the C-terminal end of the AttR cassette).
Agrobacterium mediated transformation was used to create GFP-NBIN and mRFP construct transformed lines. Mutant Arabidopsis thaliana lines ncb-1, ncb-2, pcb and ccb, as published in Collier et al, 2006 are also available.
References
Brown, J.W. et al. 2005. Arabidopsis nucleolar protein database (atnopdb). Nucleic Acids Research 33(Database Issue): D633-6. PMID. 15608277.
Campbell, R.E. et al. 2002. A monomeric red fluorescent protein. Proceedings of the National Academy of Sciences of the USA 99(12):7877–82. PMID. 12060735.
Collier, S. et al. 2006. A distant coilin homologue is required for the formation of Cajal bodies in Arabidopsis. Molecular Biology of the Cell 17(7): 2942-51.PMID. 16624863.
Kim, S.H. et al. 2009. Aberrant mRNA transcripts and the nonsense-mediated decay proteins upf2 and upf3 are enriched in the Arabidopsis nucleolus. Plant Cell 21 (7): 2045-2057.PMID. 19602621.
Koroleva, O.A. et al. 2009. Dynamic behavior of Arabidopsis eif4a-iii, putative core protein of exon junction complex: Fast relocation to nucleolus and splicing speckles under hypoxia. Plant Cell 21(5):1592-1606.PMID. 19435936
Pendle, A.F. et al. 2005. Proteomic analysis of the Arabidopsis nucleolus suggests novel nucleolar functions. Molecular Biology of the Cell 16(1):260-269.PMID. 15496452.
pDONr207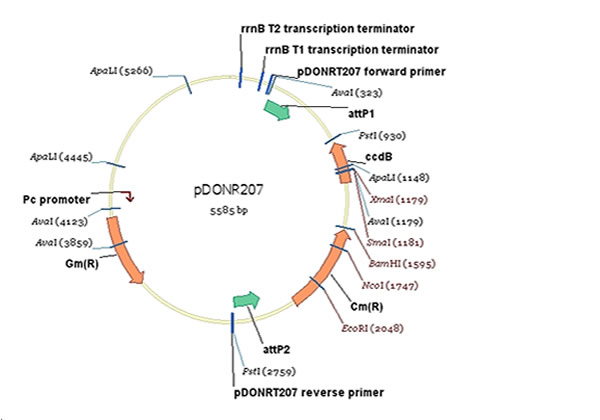 GFP-N-bin