Thlaspi arvense
Donated by
Martin Broadley Plant and Crop Sciences Division, Plant Sciences Building, School of Biosciences, University of Nottingham
Winthrop Phippen School of Biological Sciences, Illinois State University
Dario Galanti Institute of Evolution and Ecology, University of Tuebingen
Markéta Machová Czech high-school
Alexander Wirth Center of Physiology, Medizinische Hochschule Hannover
John Sedbrook School of Biological Sciences, Illinois State University
Dan Wrench Shropshire Council
Isto Nordback
Sama Tyrvainen
Magdalena Adelajda
Jane Squirrell
Graeme Cook
Thomas Joßberger Nees Institute for Biodiversity of Plants, Rheinische Friedrich-Wilhelms-Universität
Valentin Hamon
Radoslaw Puchalka Nicolaus Copernicus University
Sandra Lubinska-Mielinska Nicolaus Copernicus University
Marcin Piwczynski Nicolaus Copernicus University
Grzegorz Grzejszczak University of Szczecin
Marcin Klisz Forest Research Institute, Department of Silviculture and Forest Tree Genetics
Marcin Dyderski Polish Academy of Sciences, Institute of Dendrology
Anna Kami?ska Polish Academy of Sciences, Institute of Dendrology
Adam Bielec University of Agriculture in Kraków
Sylvain Piry
Maliheh Esfahanian
Click here to view all 808 of these lines.
Description
Thlaspi arvense collection
These are wild type lines.
This collection contains 20 single seed descent lines stock numbers N9661...N9680
Ploidy of Thlaspi arvense 2n = 2x = 14
Classification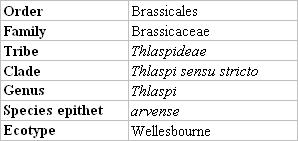 Species variant data
The original collection was from a single stand of plants in a corner of a field. This seed was bulked and some of this resulting seed was donated to NASC. From the donated seed, 20 seeds were germinated, allowed to self pollinate, and the seed from each plant was individually collected to produce 20 single seed decent stocks.
Habitat: Roadside, sandy loam, rocky ground on limestone A conservation headland of a low phosphate, sandy loam, pH 6.5 - 7 arable field used to grow maize at Warwick HRI, Wellesbourne, England. The region's climate and vegetation are considered to be wet temperate forest.
Location: Wharf ground conservation headland, Warwick HRI, Wellesbourne, Warwickshire, England.
Country: England
Image of T. arvense Wellesbourne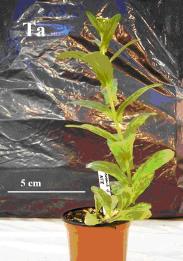 New Collection of Thlaspi arvense
The new lines donated by Dario Galanti from the University of Tubingen. This collection contains 204 lines with stock numbers N950001 to 950204.
The new lines donated by Marketa Machová Czech high-school. This collection contains 62 lines with stock numbers N950205 to 950266.
The new lines donated by Alexander Wirth Medizinische Hochschule Hannover. This collection contains 30 lines with stock numbers N950267 to N950296.
References